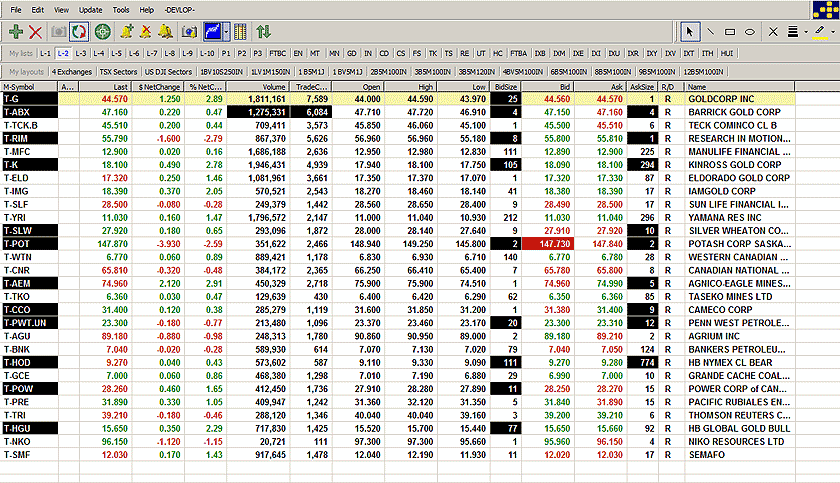 ---
Traderplus is simple and powerful software that allows you to track intraday stocks and indices in real time. The software is continuously and dynamically fed by the quotes system of Decision-Plus.
Traderplus is easily and quickly installed on to your computer. Take advantage of our 10 day free trial with real time quotes on the TSX and TSX venture without any obligation. The quotes of New York will be delayed by 20 minutes and all others will be delayed by 15 minutes during the trial period
Traderplus is ready to be used immediately. It is so easy to manipulate that the explanations that follow will be more than enough to fully use it.
Traderplus allows you to follow quotes and charts similar to all the software of its kind. But Traderplus surpasses the others with its ease and simplicity. With Traderplus, spend more time trading and less time working.
Quick glance
Once you start your trial period, immediately after its setup, you will be able to judge for yourself the simplicity and power of Traderplus just by following the incredibly simple steps stated below:
Start the software Traderplus


Switch to the continuous mode by clicking on the two arrows icon placed in the button bar. If the stock markets are open, you'll see flashing quotes.





Click on the various lists of the bar list to see how easily you can track numerous lists of stocks.





Click on the different layouts of the models' bar to see how easily you can spread out your charts' strategies.

If you have only one screen, you will not be able to open a lot of models because they will be one over the other.
If you have multiple screens, open chart templates and transfer some of the layouts to your other screens.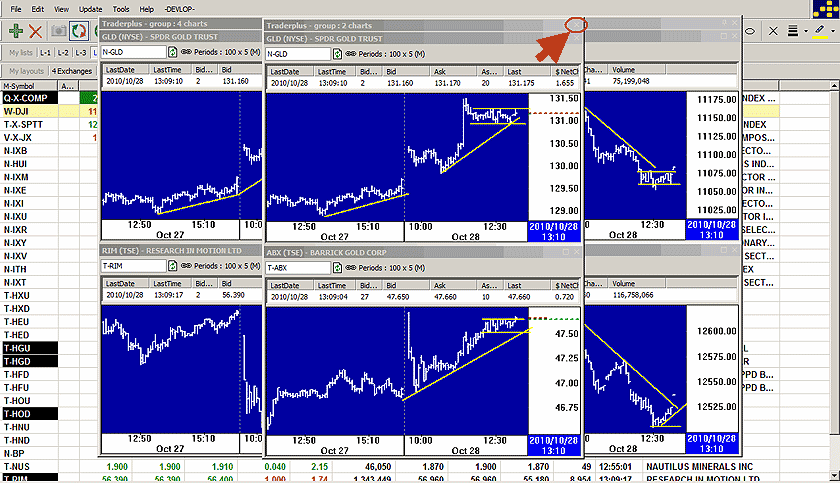 Note:
When you exit the program, without closing the charts, you will find on the next start-up of the software, all the charts' layouts the way you left them.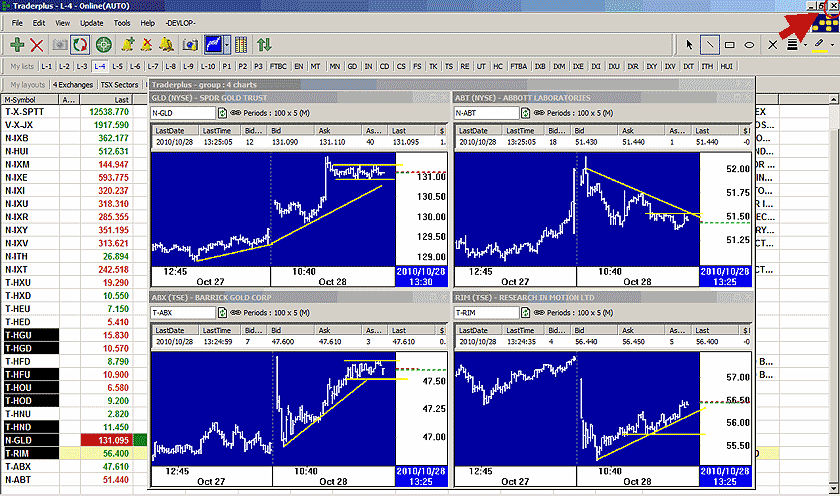 Discover Traderplus
Check the following points to discover the advantages of Traderplus. Each of these points is illustrated by a short explanatory video
| | | |
| --- | --- | --- |
| Purchase price of Traderplus software: 399,00 $ | | |